UPDATED: April. 21, 2009
1. Photo:
Gerrylock cranial prosthetic hair piece is integrated with her own natural Sisterlocks of 8 years. She already had thinning and hair loss when we started the Sisterlocks as an alternative solution to other styling methods. This was a healthy system to manage her natural hair.
Over the years, she has continued to develop alopecia and needed a natural looking prosthetic that looked just like her own natural sisterlocks to give her the fullness, styling options, and comfort of her natural hair. She gets her sisterlocks retightened every 4-6 weeks and has her Gerrylock cranial prosthetic maintained, reattached, and integrated into her sisterlocks. She has been wearing her prosthetic piece about one year.
2. Photo:
Caption: Gerrylock hairline integration piece. She is wearing two types of technique integrated together. The client did not want to start out locking her natural hair into small locs because she has alopecia in the front of her hair line and wanted more length and fullness to camouflage.
She asked for a full head of small Gerrylock extensions for her permanent locking system. And when her Gerrylock extensions grows out, she would hand knit her natural new growth or palm roll to continue the locing process. She has been doing this for over one year.
3. Photo:
Caption: Gerrylocks in own natural hair. She came in with a full head of thick, long, beautiful natural hair and liked the look of small stylable locs. She wanted very small loc extensions that could grow out and be converted into hand knitted locs as they evolved over time for an instant mature long look.
This photo shows her natural hair growing out of her Gerrylock extensions over 8 years. At the tips she has about 3 inches of the original loc extensions which are a slightly lighter color due to the sun light exposure over time.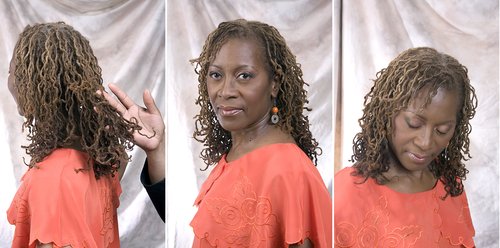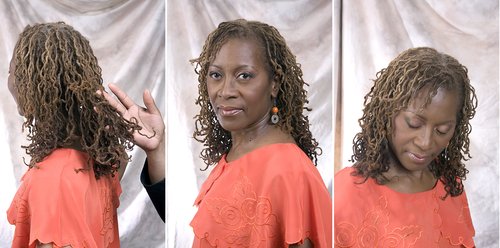 4. Photo:
Caption: Full head of Gerrylock extensions. She came in for a consultation with 3 inches of natural hair and got Gerrylock extensions into a layered bob style. She wanted medium small extension locs for length and fullness. She gets her hair colored every few months to match her human extension hair.
She has only lost a few Gerrylocks around her bang and front area. All the rest of her hair still has the original loc extensions growing and blending very well with her own natural locs which are hand knitted in the new growth for the last 5 years.

5. Photo:
Caption: Full head of Gerrylock extensions. She had very thin and fine salt and pepper hair and wanted very small stylible locs. She asked for extensions to give her fullness and length to camouflage her thin hair while going through the locing process.
Her Gerrylocks were custom crafted with human hair and blended strand by strand by us to give her the total natural color to match her own mixed silver and grey hair for a beautiful look as it grows out. Once a month she gets her new growth hand knitted and styled.


6. Photo:
Caption: Gerrylock extensions. She came in with very large traditional palm rolled locs that she had since she was a baby. They had grown very long down her back, very heavy, and breaking off her roots leaving her hair thin with bald spots. It was agreed that her existing locs be cut off, which left her with a short afro were she wanted medium large Gerrylock extensions to grow out and to palm roll her natural new growth into a full head of locs.
7. Photo. Gerrylock piece integration with hand knitted locs. Originally had traditional locs that were long and heavy but had them cut off because of hair loss at the crown area and thinning overall. She grew out 3-4 inches of her natural hair to start the sisterlock technique and then I measured a half crown Gerrylock integration system that blended into her front, top, upper mid-back, and sides to give her a full look.
When her sisterlocks became naturally full as they matured, she stopped wearing her Gerrylock piece and some of her thin areas grew in. She is now wearing her natural sisterlocks. Gerrylocks is a great temporary alternative while growing out of a chemical relaxer, damaged hair, and hair loss due to medical conditions or stress.

8. Photo:
Caption: She has Gerrylock extensions on the top crown area and few on the front area of the head. This particular client didn't think she could get hand knitted locs because her hair was only 3 inches all over and she had severe amount of hair loss on the sides and had been bald there for many years. Wearing her hair natural did not grow in her sides and she wanted another alternative to grow her natural hair out.
When she came to the salon and found out about the loc extensions she got a full head of small hand knitted locs starting from the mid-center down to the back of her earlobes and the entire back half of her head. Her front crown area wasn't long enough to cover the bald sides of the head. That's where the Gerrylock extensions were added to give her a balanced look.